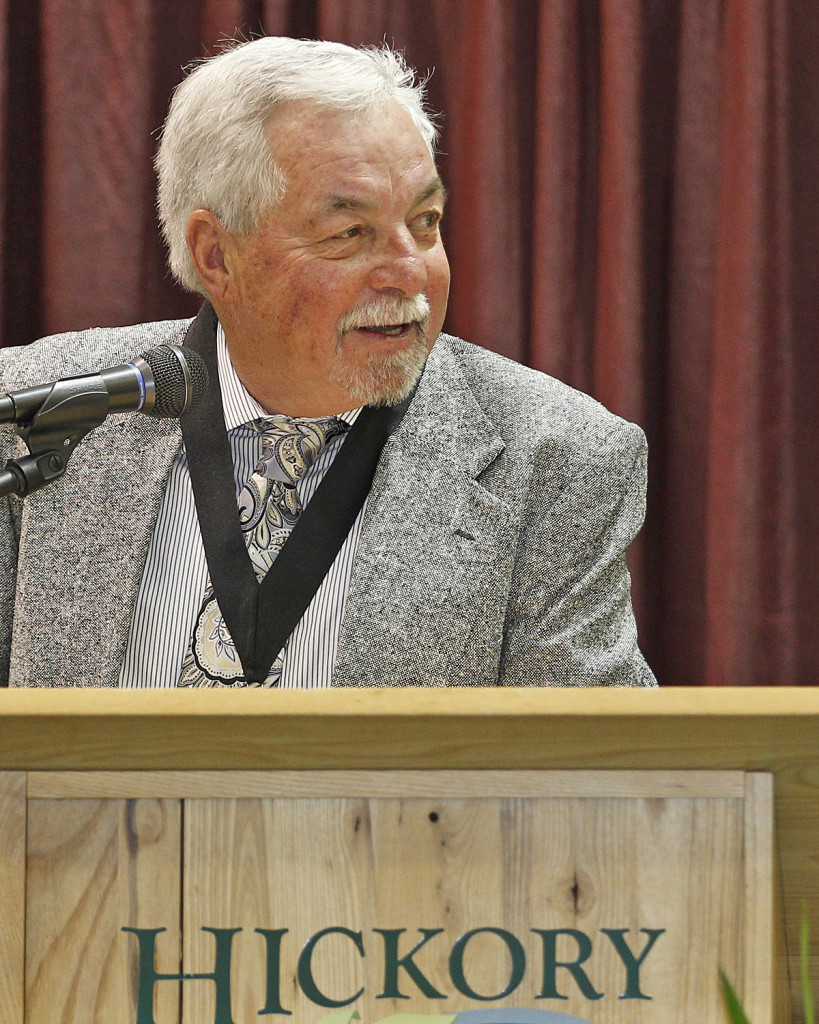 TOMMY HOUSTON
Tommy Houston joins Catawba County's racing royalty in Hall of Fame
Catawba County-native's 30-year career an integral part of the Hickory Metro's motorsports tradition.
From winning the first race on pavement at Hickory Motor Speedway to contending for a championship in NASCAR's early Busch Series, Tommy Houston was a motorsports pace-setter for 30 years.
"We are honored to have Mr. Houston go in. He is part of this county's rich tradition in motorsports," said JuJu Phillips, chairman of the Catawba County Sports Hall of Fame Committee. "Tommy is an important part of the legacy of stock car legends already in the Catawba County Sports Hall of Fame."
Part of a close-knit family at the heart of Catawba County's racing heritage, Houston was among the first class of racers to hit the track in 1982 for the NASCAR touring series formerly known as the Busch Series. He won the series' first-ever short-track race at Richmond, Va., during that inaugural year, and went on to collect 24 victories from 1982-1996.
"Tommy Houston was one of the drivers who was instrumental in helping to launch that series into national prominence and popularity," wrote Catawba County Sports Hall of Fame member and racing legend Ned Jarrett in a letter nominating Houston for hall of fame induction. "His older brothers, Hal, Ken and Ronald "Slick" Houston all have their names written in local car racing books, but Tommy's star shone the brightest."
Houston was the first Busch Series racer to achieve 300 starts and later 400 starts. In 417 career races, he posted 123 top five finishes, 198 top tens and 18 pole positions. He is the all-time Busch Series victory leader at Hickory Motor Speedway. His highest finish in the series was second place for the 1989 season.
"Even though he never won the championship, he was a consistent winner in the series and finished in the top five of points seven times in his career," shared 1999 Winston Cup Series Champion and Catawba County Sports Hall of Fame member Dale Jarrett in a letter endorsing Houston. "Tommy Houston was a winner on the track, making the sport of NASCAR racing a better sport through his involvement, and he is a great role model and person off the track."
Houston's career began in the 1965 Hobby Division at Hickory Motor Speedway. In 1967, he won the first-ever Hobby Division race on the track's new asphalt surface, and later that year won the North Carolina Hobby Championship.
As he ascended into motorsports racing's sportsmen division, he won the Hickory Motor Speedway Track championship twice, the Asheville Motor Speedway Championship twice and the North Carolina State Championship in 1976.
"I first met Tommy as I worked at and watched races at Hickory Speedway in the early 1970s," Dale Jarrett shared. "I was, as a teenager, always impressed with his winning ways and driving skills, but also with his interaction with the fans. … I soon found out, as I started my racing career, what made Tommy Houston the champion he is today. He was always willing to answer my questions as a young driver starting out.
"Whether it was about driving or the workings of the car, Tommy was there to help this young man," Dale Jarrett continued. "I owe him for helping me build my Hall of Fame NASCAR career."
Houston and his family helped launch many careers in motorsports. He, his wife of 50 years Martha, Scott, Andy and Marty dedicated countless hours to NASCAR careers that continue today. Andy and Marty Houston are still NASCAR team members with Richard Childress Racing.
"Their local race team also brought in young men looking to make their way into NASCAR," Dale Jarrett noted. "The list includes an impressive number that moved on to be crew chiefs in the NASCAR Sprint Cup Series and others that have very nice careers in the top three series in NASCAR."
Houston still holds the fastest Busch Series qualifying record at Daytona International Speedway (194.389) set in February 1987. He was inducted into the National Motorsports Press Association Hall of Fame in 2008. Like Ned Jarrett, and other racing legends Bobby Isaac and Harry Gant, Houston is saluted by his "home track" in Hickory with a grand stand named in his honor.
"I have known Tommy in excess of 50 years, and while his statistics are impressive, I am just as inspired by the man himself," Ned Jarrett said of Houston, who has been a member of St. Stephens Lutheran Church since 1971. "His selfless, easy-going nature, commitment to excellence and deep-rooted sense of family values have served him well as a competitor, as a Catawba County citizen, as a father and as a husband. I have always been very proud to consider him a friend."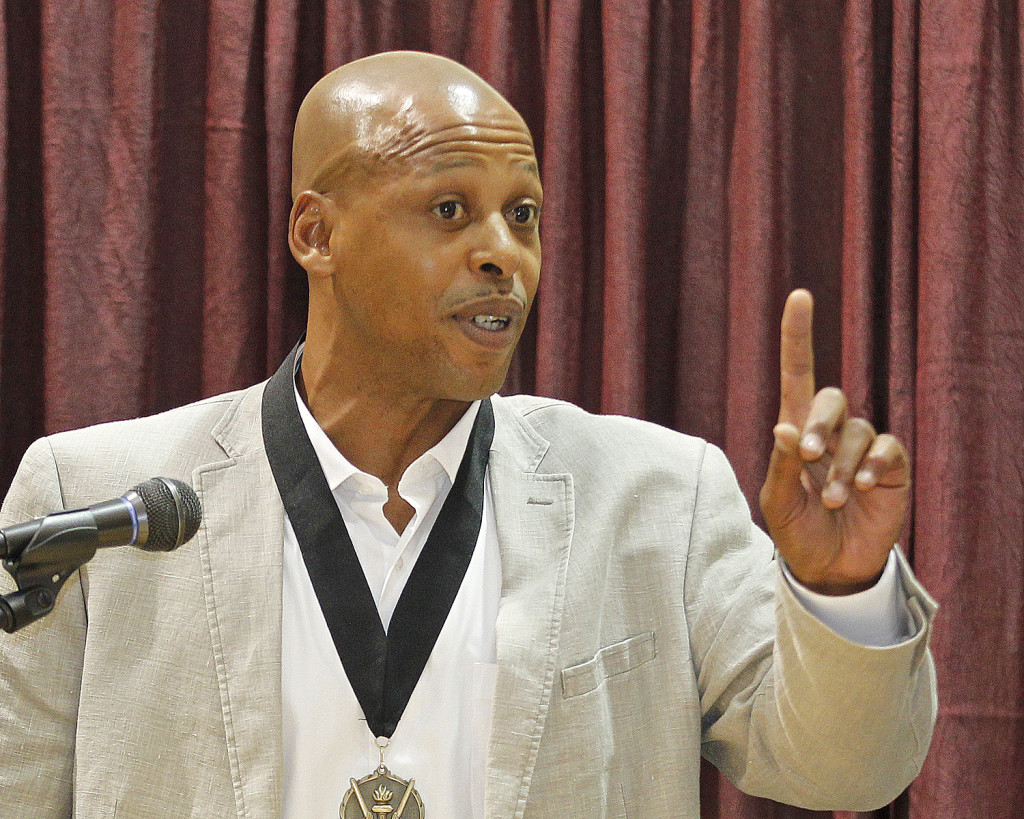 TYRONE MCDANIEL
Tyrone McDaniel is among Catawba County's most successful basketball products.
"Tyrone was one of the greatest players to come out of Bunker Hill. He was one of the greatest guards in Lenoir-Rhyne history," said Catawba County Sports Hall of Fame Committee Chair JuJu Phillips, "and he also enjoyed one of the longest tenures as professional basketball player of anyone in this county's history."
A four-year basketball letterman at Lenoir-Rhyne University (1989-1993), McDaniel is the all-time steal leader (291) for the South Atlantic Conference, and the Bears. He was a member of Lenoir-Rhyne's Elite 8 finalist team in 1993, when he led the nation in steals (116). His career scoring (1,034) puts him among only about 40 other members of L-R's 1,000-point club.
"Tyrone still holds the SAC and school (records), but what made Tyrone stand out, and stand above others was the simple fact that he was THE hardest working player that I have coached in my 29 years at L-R," said Lenoir-Rhyne basketball coach John Lentz, a member of the 2014 Sports Hall of Fame class. "As our point guard, he was the spark that helped us win a pair of SAC regular season and tournament titles."
McDaniel led the 1992-93 Bears team considered by many to be one of the school's best-ever basketball teams. The squad reached the NAIA National Quarterfinals with a record of 25-7. He finished his playing career with an 88-30 record and was inducted into Lenoir-Rhyne's sports hall of fame in 2005.
Prior to his college career, McDaniel was a two-sport athlete at Bunker Hill High School. There, he was a two-time all-conference selection for football (1987, 1988), and as a junior, he intercepted 14 passes.
Basketball, however, was his strong suit. He was named all-conference in 1988 and 1989, when he led the Bears to the 2A state finals. He was named Team MVP of the state championship runner-up team.
"I saw him bring a level of enthusiasm, desire and competitive spirit to the basketball court not only at Bunker Hill but all across the Catawba Valley," former Bunker Hill coach Jim Woodruff wrote in a letter endorsing McDaniel's hall of fame nomination. "Tyrone's never-lose attitude led Bunker Hill to the basketball state championship game in 1989, and then after moving on to Lenoir-Rhyne University, he used the same competitive edge to lead the LR Bears. …"
McDaniel played pro basketball in Europe and South America for 12 years, and he was a member of the World Famous Harlem Globetrotters in 2006.
He earned his bachelor's of science degree from Lenoir-Rhyne in sports management in 1993, and attended two years of graduate school. He is employed by Mecklenburg County Parks and Recreation.
"Tyrone was one of the greatest guards to ever play for me and for the Bears," Lentz said. "Tyrone was relentless and never gave in. He always would say 'Show me you can play, don't tell me!' Tyrone was all about winning. Nothing less was acceptable."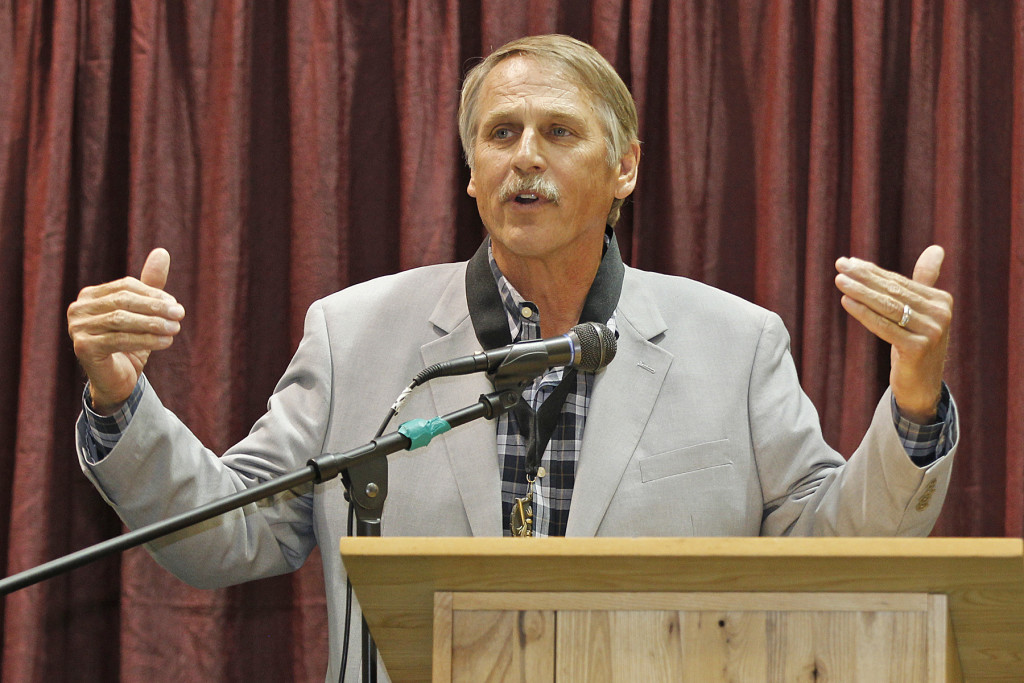 HANK PARKER, SR.
When it comes to bass fishing Hank Parker Sr. is among the biggest lunkers.
"He's recognized as one of the most decorated sportsmen in the nation," said Catawba County Sports Hall of Fame Committee Chair JuJu Phillips. "A two-time national champion in B.A.S.S. fishing, he's a legend and becomes the first fisherman to be inducted to the hall of fame."
When his professional career began in 1976, he won the National Bass Association Tournament Circuit's national championship within his first year. Three years later he launched into the national stage and the Bass Angler's Sportsman Society (B.A.S.S.) Tournament Trail.
In 1979, he won the Bassmaster Classic, a feat he repeated 10 years later. Parker was the first angler to win a B.A.S.S Grand Slam, which includes winning a B.A.S.S. qualifying tournament, the Bassmaster Classic, the B.A.S.S. SuperBass Tournament and the B.A.S.S. Angler of the Year award.
Parker is a member of the Bass Fishing Hall of Fame and the Legends of Outdoors Hall of Fame. In 2014, he was inducted into the world's most prestigious fishing organization, the International Game Fishing Association.
As he maintained a fishing career that produced a payout in more than 76 percent of the B.A.S.S. tournaments he fished, for more than 20 years Parker's nationally syndicated TV Show "Hank Parker's Outdoor Magazine" promoted the sport he loves.
"Hank now co-hosts another syndicated show with his sons Hank Jr. and Billy, called Hank Parker 3D. Many of these episodes are evidence of how Hank gives back by promoting his sport and drawing awareness to those less fortunate," Michael Carpenter wrote in a letter endorsing Parker for the Catawba County Sports Hall of Fame.
Parker has dedicated episodes of his TV program to promote charitable organizations like "Outdoor Dream Foundation" and "King Fisher Society" among others. Parker and his family are strong supporters of "Cure International," an organization focused on bringing medical care to those who can't otherwise obtain it.
"As a man with notoriety, I'm amazed with Hank's genuine 'down home' attitude that he brings to any public forum. Through his endeavors, Hank demonstrates his small hometown family roots and values," Carpenter said. "Hank's many successes never outshine his emphasis on family values. His modesty always comes through when speaking with him, yet his desire for excellence in his chosen field is second to none, even in retirement."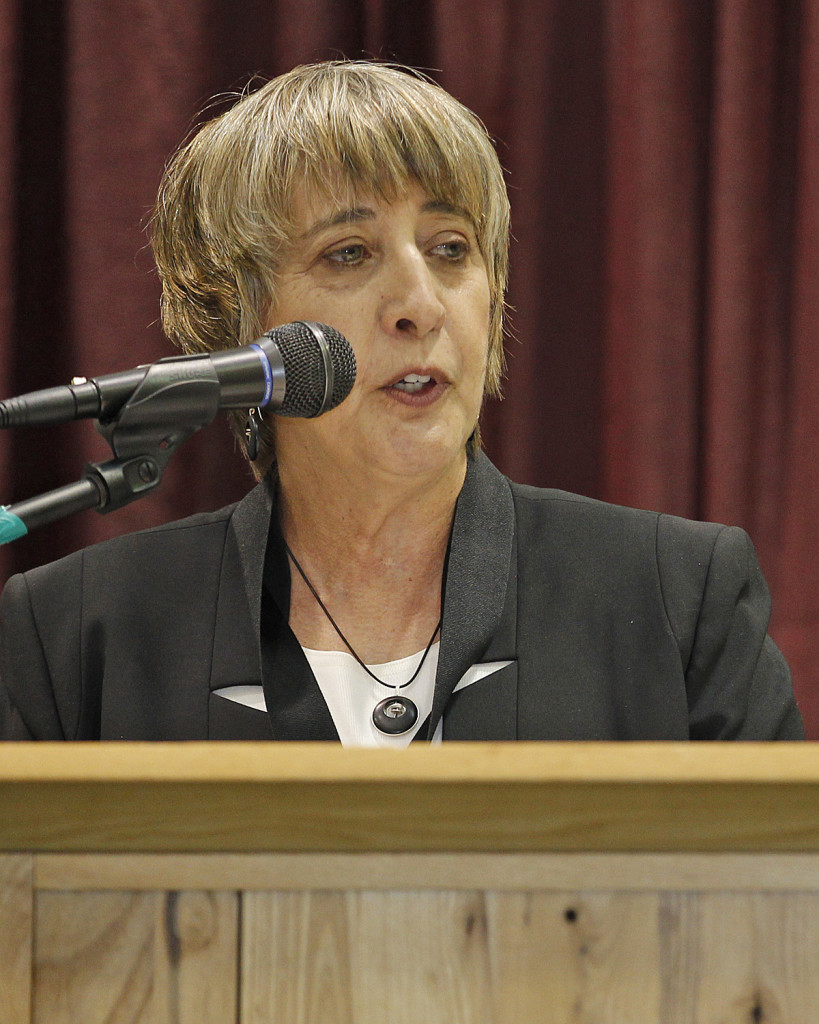 LINDA RICHARDS
Linda Richards is top vote recipient in Hickory Metro Sports Commission's Catawba County Sports Hall of Fame balloting for the 2015 class.
In 27 years of coaching high school volleyball teams in Catawba County, she amassed more than 500 wins and five state championships, including a "three-peat" as Fred T. Foard coach. She also led the 1991 Foard softball team to a 3A state title.
"Hands down, Linda Richards is one of the best head coaches of women's athletics, not only in Catawba County, but statewide," said JuJu Phillips, chairman of the Catawba County Sports Hall of Fame Committee.
During her tenure at Foard (1986-2002) Richards coached the school's volleyball team to consecutive 3A championships in 1995-1997.
"I truly am honored to be here and be associated with the names out there on the (hall of fame) wall," Richards said of her hall of fame induction. "I'm only representative of all the people I have been associated with over the years. I appreciate all the players I had and all their work. Their hard work and dedication make me look good."
Richards also gave credit to parents who supported athletics at the schools where she coached.
"It's not just me, but a community effort," she said. "I am just representative of everyone that has worked to hard."
"She was our coach, our leader. She pushed us beyond what we thought were our limits. She made a state championship not only a goal, but made it obtainable," wrote two-time N.C. volleyball champion Theresa Kabel in a letter supporting Richards' nomination to the hall of fame. "It's been many years since those days on the Fred T. Foard court, but what I learned and accomplished are still a huge part of me today."
Foard and Richards won a fourth state 3A volleyball championship to cap off a perfect 30-0 season in 2002.
"The difficulty of this is incomprehensible by people that were not familiar with the hours we put into training with LR," shared Audra Harrison, a member of the 2002 championship team. "LR managed to implement a system, a winning system. She implemented a sense of companionship and fight within all her athletes."
Richards took her system to Newton-Conover High School in 2003 and coached the Red Devils to a 2A championship in 2011 before retiring in 2013. She collected her 500th career coaching victory in September 2013.
In 2012 Richards received the N.C. High School Athletic Association's Doris Howard Female Coach of the Year Award. In addition to accomplishments on the court of competition, Richards' career includes a 20-year camp tradition that instills volleyball fundamentals in young athletes throughout the Hickory Metro.
"Linda Richards made a huge impact on Catawba County and the community," wrote Kabel, now a volleyball coach with Southwest Sunset Volleyball Inc. in Florida. "It reaches far beyond that as well. She is still a mentor to me and several other players who now coach youth all around the country or contribute to businesses lucky enough to employ any of her former players. "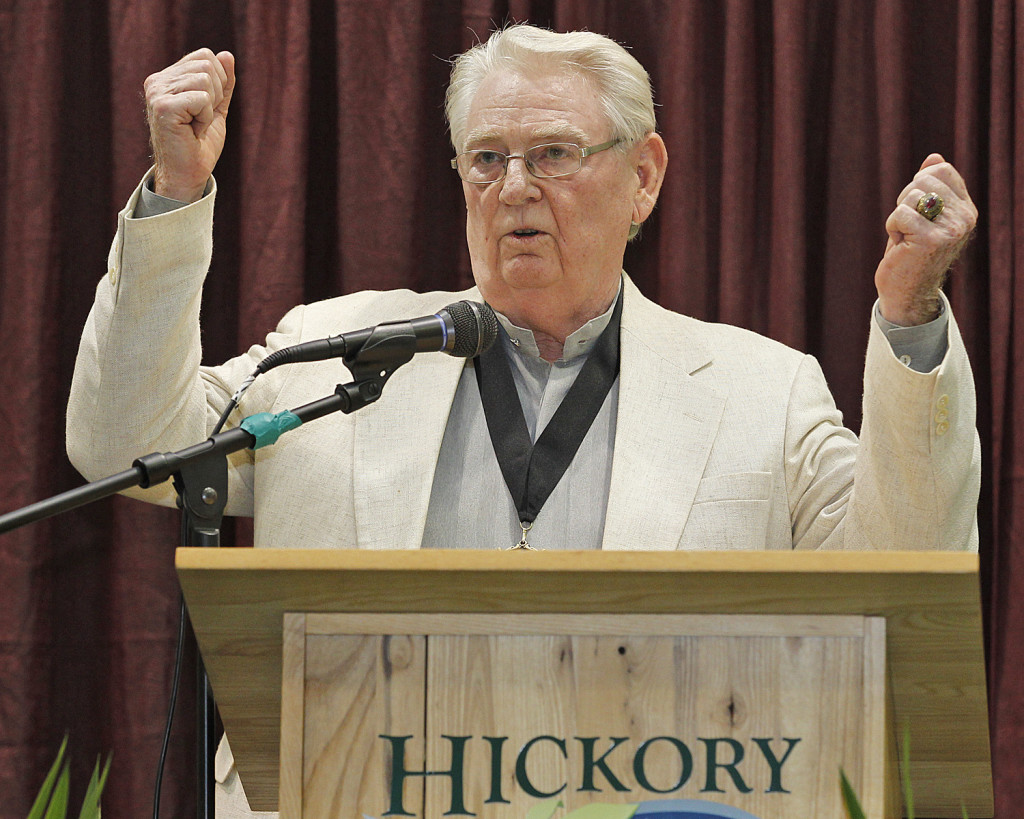 GARY YOUNT
As a collegiate athlete, Gary Yount is in rare company among Catawba County natives.
"Gary Yount is one of the better two-sport athletes of the 1960s to come out of Catawba County," said Catawba County Sports Hall of Fame Committee Chair JuJu Phillips. "He rose to prominence in the ACC, earning six letters in football and baseball for N.C. State."
A punter, defensive back, and team captain for the N.C. State University football team, he was twice named All-ACC and set a Liberty Bowl record for punting average in the Wolfpack's 1967 win over Georgia. The following spring he captained N.C. State to its first appearance in the College World Series, where Yount drove in a game-winning run to help secure third place in the tournament. The performance earned him All-ACC honors in baseball.
"It is very humbling," Yount said of his induction to the Catawba County Sports Hall of Fame. "One of the reasons I chose N.C. State was I could play football and baseball. I was very fortunate to play on some of the best teams, including the highest ranked football team we ever had. We climbed as high as No. 3 in the nation."
"I've had the opportunity to witness first-hand many outstanding athletes. Few, if any, were able to excel in high school and college the way Gary Yount did," wrote Ronald Williams a "1950s" product of the Newton-Conover school system.
At Newton-Conover high School, the 1964 graduate was a three-sport athlete, earning all-conference honors in football, basketball and baseball. He achieved the honor three straight years for football and was selected for North Carolina's All-State and Shrine Bowl teams in 1964.
Earlier this year Yount was inducted into the Newton-Conover High School Hall of Fame.
Yount's success continued at the collegiate level. In four years of varsity football, he led the ACC in punting in 1968 and 1969, and was an all-conference defensive back the same two years. He was selected for the East West Shrine Game in 1969, when he also received Associated Press All-American honors.
On the baseball diamond he was a varsity catcher and outfielder for three years, and posted a .306 batting average his senior year.
Now retired, Yount served as a Catawba County Magistrate for 11 years, 1999-2001.